Grayhawk development near 144th and West Maple — launched 15 years ago — is almost complete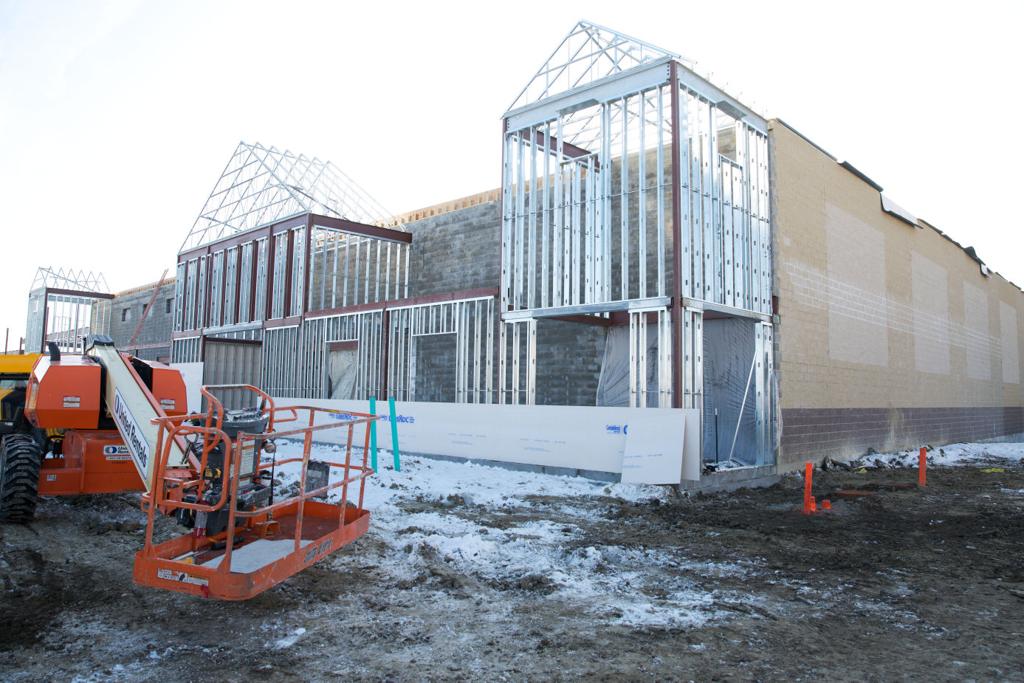 POSTED: MONDAY, JANUARY 11, 2016 12:30 AM | UPDATED: 11:20 AM, MON JAN 11, 2016.
Launched 15 years ago, the Grayhawk development in northwest Omaha again is soaring, and about to complete its final leg.
It was in 2001 that city officials approved the plan to bring new life to a meadow covering about 95 acres southwest of 144th Street and West Maple Road.
Cormac Co. sold about a third for residential construction, recalled former Planning Board member John Hoich.
Soon on the commercial side sprouted a Lowe's, followed by a Michael's and other retailers. The Lowe's megastore in 2002 was doing so well that city planners proposed early annexation to gain the new sales tax revenue for city coffers.
But with the Great Recession later that decade came financial struggles for the commercial developer. Portions of Grayhawk were returned to the bank.
In 2011 Omaha-based Lockwood Development bought about 16 acres west of the Lowe's store that until recently remained grassy land.
Dubbed West Grayhawk, that's the construction zone visible today along West Maple Road between 147th Street and 150th Avenue.
When completed, the roughly $30 million section essentially wraps up the Grayhawk development area, said Lockwood President Chip James.
He said most tenants should move in later this year, and the last of the West Grayhawk businesses should be operational in 2017.
Hoich, who served nearly two decades on the planning board, remembers the Grayhawk journey. At one time he bought and then three years later sold a chunk of the commercial development.
He recalls the portion now being developed by Lockwood as one of the more challenging pieces, due to hilly terrain.
James said he hauled off a lot of dirt and debris, and hit a few snags as he tried unsuccessfully to attract a Sam's Club and apartments.
But he said he is more satisfied with the current mix of shops Lockwood has secured.
Except for one retail bay, most of the Lockwood property is either leased or sold to users — a testament, James said, to the strength of the West Maple corridor.
Incoming tenants include a Gordmans and a Fresh Thyme Farmers Market, which will be bookend anchors of a 100,000-square-foot retail strip also containing a Shoe Carnival and an Ulta Beauty.
A Rusty Taco and three other tenants (under contract but yet to be identified) are poised to fill a 10,000-square-foot building.
In addition, Lockwood has sold three construction pads totaling about four acres to Children's Physicians, Amigo's restaurant and a financial institution, which would build and own their own structures.
West Grayhawk comes as more housing and commercial space is under construction farther west along West Maple Road.
A milelong stretch between 180th and 192nd Streets is transforming to Antler View apartments and a commercial area. That $150 million project, expected to spread over a decade or so, is being developed by Quantum Real Estate and Vann Realty Co.
Meanwhile, hundreds of rooftops are coming. North of Antler View is the developing Indian Pointe residential subdivision. To the south is Elkhorn Highland Ridge.
Construction has ramped up at West Grayhawk since it started last summer at the site.
Hoich said West Maple has long been a solid retail corridor, and he's glad to see the last phase of Grayhawk. "It's wonderful it finally is coming to this stage — and that things will continue to move west, but not in that leapfrog manner."
Contact the writer: 402-444-1224, cindy.gonzalez@owh.com